Dear readers
The 3rd ALV Cup will be taking place on 27 July 2014 at The Vines.
There has been negotiations between the Aus Chinese Golf Association and the organisers to get our members a better deal.
The sponsors have agreed to sponsor the playing fee for members. The playing fee is now a subsidised amount of $50/- which includes dinner. This is the amount payable by members.
Non members will pay $90.
There is all the more reason to join as a member now as the organisers have agreed to provide trophies to the nett score winners. The trophies will only be given to members with registered handicaps.
All members who have their golflink card have been allotted their handicap.
Non members who win will only be given wine from the sponsors. So get your membership applications in as soon as possible.
Players also have to pay for their games up front as the Vines organisers require payment up front.
If you are playing, please send your playing fee to :
Aus Chinese Golf Asso bank acct:
06 6110

1026 2269
第三届ALV CUP高尔夫精英赛现已接受报名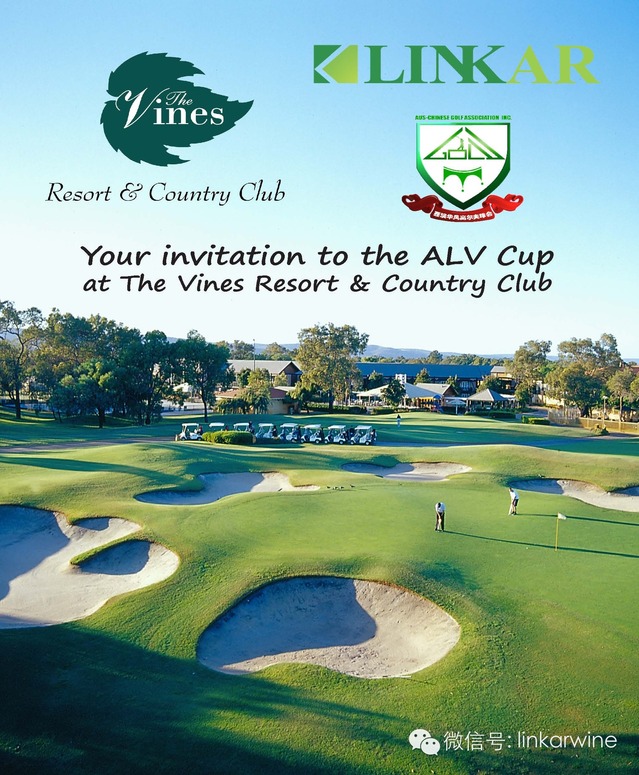 第三届ALV CUP高尔夫精英赛开始报名啦!
7月27日(周日)赛事日程:
11:30 球员登记
12:15 进入球场
12:30 开球准备
18:00 餐前酒会
18:30 颁奖晚宴
劲爆超值套餐:
$120.00/人(含酒会及晚餐费用)
Linkar Club与"华风"会员均可享受会员价$90(现在或当场入会的会员可享受同等待遇)!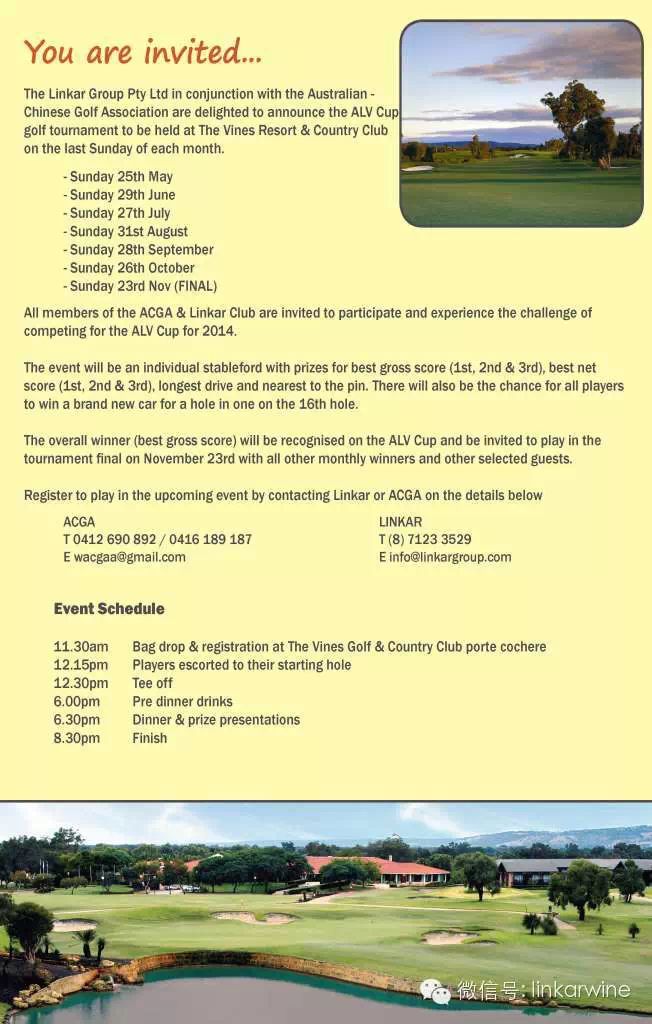 欢迎第一届的各位球友继续支持、踊跃报名,未能参加上届活动的朋友们更是不能再错过!
以球会友、美食美酒、丰富大奖,ALV CUP等着您!
热线:0412 690 892 / 0416 189 187
地址:35 Money Street, Perth, WA 6000
如果您喜欢这篇文章,请点击右上角的按钮并选择"分享到朋友圈",与您的好友一起分享。
更多详情请进入我们的官方网站:www.linkargroup.com,或扫描以下二维码直接登录。